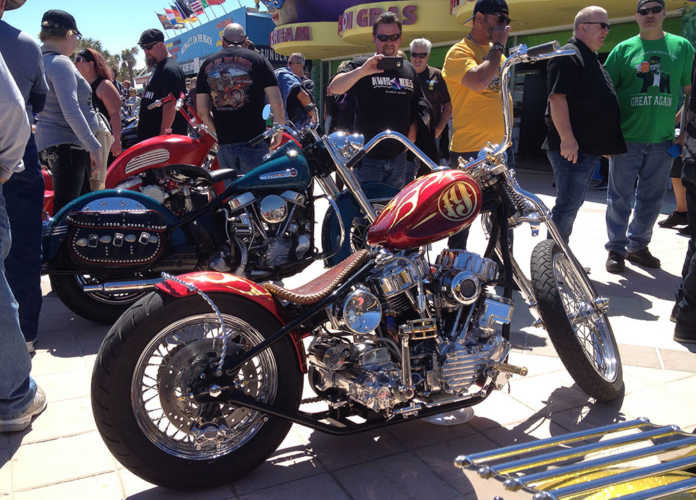 It wouldn't be Daytona without the Beach and it wouldn't be Bike Week without the Full Throttle Boardwalk Bike Show. Palm Trees, sunshine and the breeze blowing make the perfect backdrop for a Daytona Beach style Bike Show. Every Bike Week all kinds of rides from crazy customs to baggers, choppers, themed bikes and everything in between roll out to the boardwalk overlooking the hard packed sands of Daytona Beach.
This show is always a favorite of mine. Just seconds away from Main Street, the Full Throttle Boardwalk Bike Show has something for every taste on two wheels. Hosted by Full Throttle Magazine, a local publication to the Daytona Beach area, the 2017 show marks the 28th year of this Bike Week tradition. Another great thing about this show is it takes place in the early afternoon leaving the rest of your day free to check out all that main street has to offer just steps away.
Full Throttle Boardwalk Bike Show at Daytona Bike Week
The crowd for this show is often as diverse as the bikes themselves. Filled with snow birds, spring breakers, locals, beach bums and bike enthusiasts, people from all walks of life flood the Daytona Beach boardwalk for a perfect afternoon of custom bikes, classic music, cold brews and good times.