After doing a few winter hikes recently, and one being "warm" enough to ride the bike to, I felt it would be nice to explain a little bit about my adventurous side and how I incorporate my Harley into it. I can't think of a better way to decompress my emotions and stress than throwing a leg over the saddle to ride a few hours for a nice hike through a state park.
There are multiple options when it comes to exploring nature that vary from novice to expert. What is most important here is recognizing your personal abilities, fitness levels and experience in the wilderness while planning your trip. You also have to keep in mind what you're able to take with you on your Harley! Typically the gear you own for hiking is a good indicator of what you are capable of tackling. A beginner isn't likely to own crampons and ice picks for a winter trek, for example.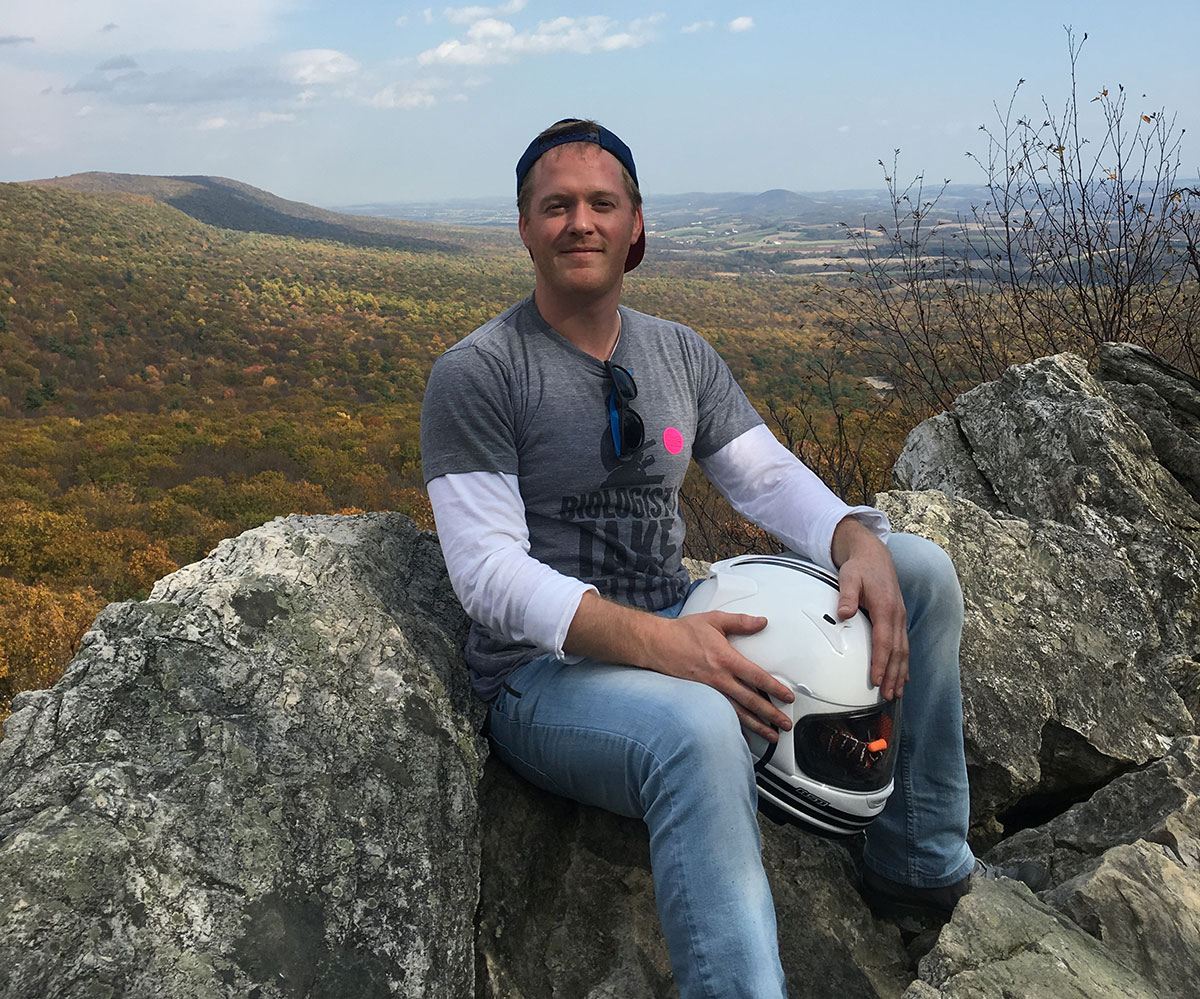 Plan Ahead and Choose Your Own Motorcycle Adventure
Where to go? The destination decision is often difficult because of availability of resources en route and at the destination. Additionally, we are at a disadvantage with what we can take with us and what roads and areas we can access on our motorcycles. A few years back I bought the National Geographic Road Atlas Adventure Edition that is filled with information on state and national parks across the country. This is great for a person like me who is above the beginner stage, but by no means equipped to do a solo ascent to the top of a 15k peak. I love opening the Atlas and searching out some parks that are a few hours from me, jotting them down and then googling information about them before making my decision.
One thing I have definitely learned from motorcycle hiking/camping/exploring is that some "roads" you see on maps aren't nicely paved roads. Many of Pennsylvania's paved roads are a disaster in their own right, but access roads going up a mountain to a trail-head can be an unpaved, pothole ridden, muddy mess. Personally, I don't mind taking my bike on these roads, and my motocross racing days gave me the experience to drive on less than stellar roads – but just a warning to those of you who are riding bikes you'd rather not get dirty, or don't feel comfortable in conditions like that. What a bummer to ride all day only to find out you can't get to the trail-head because of a treacherous access road!
Day Hikes or Multi-Day Trip Variables
A multi-day trip can be great because it gives you the opportunity to explore many areas, but you're going to need to pack much more. Do you have saddlebags or a bike such as a Sportster with just you and a passenger seat? I plan to install a sissy bar this season that will enable me to strap a large pack to the passenger seat, which will definitely allow me to do multi-day trips. Aside from your essentials (multi-tool, pocket knife, boots, first aid kit, and comfortable clothing) you may need to have a tent, sleeping bag and sleeping pad. Depending on your location, food and a water purifier are essential components that I always pack for a worst case scenario situation.
Keep in mind when picking your destinations and routes that you will now need to carry all of this with you! To some of us that is obvious, but to a beginner the thought of carrying "only 50 lbs." on their back because they over packed is much different than actually doing it. Lastly, you could of course plan to spend the night at a hotel, which is fine, but I prefer to rough it out in the wilderness when I do overnight trips.
When you're hiking and camping your bike is going to need a safe place to park. There are spots I have hiked where I had the bike right outside my tent, and there are other places where I was in the back country and camped with the bike miles away. Do some research about where you are planning on going and the parking amenities nearby, bring a lock and chain with you as a deterrent if you are unsure, but you can likely find somewhere lit and even monitored to leave your bike for a night or two.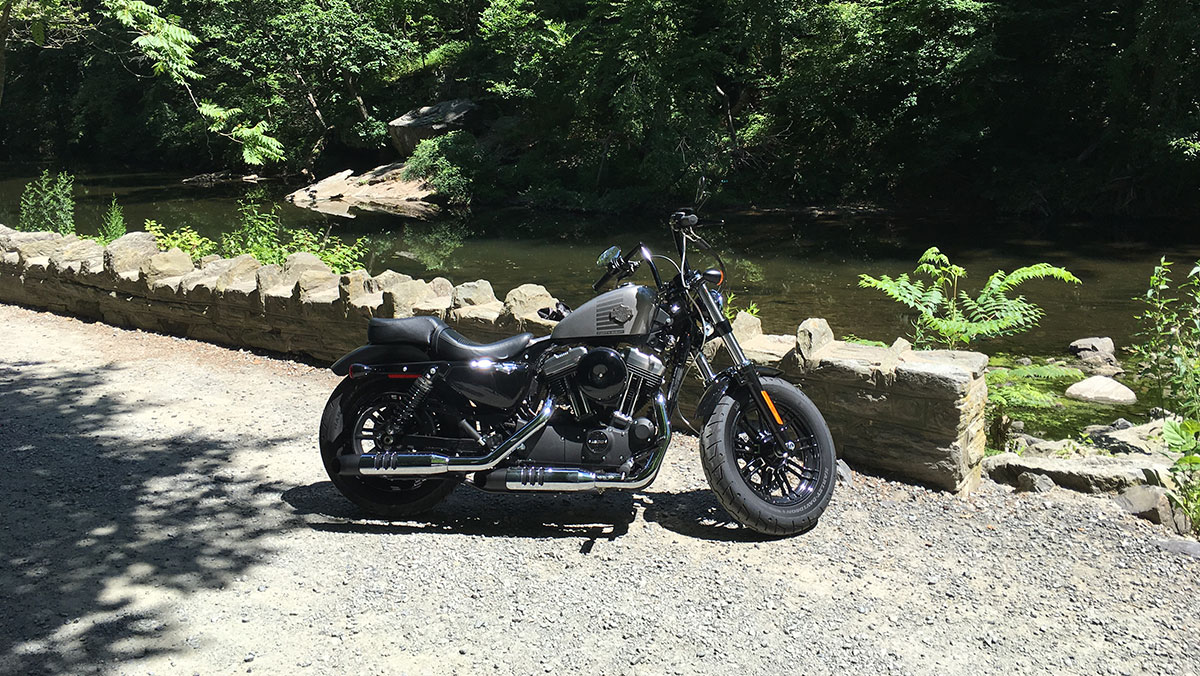 One thing to consider as you are going to be traveling to some remote destinations is fuel. My Forty-Eight is the first bike I have ever owned that I truly need to be constantly aware of my fuel capacity. At a measly 2 gallons I am not getting very far, so I need to be sure I don't put myself in a situation where my gas light comes on but I am 50 miles from a gas station. That is unlikely, but it's good to be aware of where the gas stations are on your route, especially as you approach your destination in a remote location. This year, once I get my sissy bar installed, I plan to buy a reserve fuel tank that can be strapped to the bar! It's not a good idea to rely on such a tank, but it will be nice to have just in case I get lost or caught off guard.
Proper Etiquette and Behavior in Nature
As someone who loves nature I feel the need to add a friendly reminder to cap this piece off. Remember, first and foremost, we are out in nature so don't feed the wildlife, keep your food sealed as best possible and if camping overnight get a bear canister! Put out any fires you may have built before leaving, and don't build fires where they are prohibited. Use the "take in, take out" motto for whatever you bring with you, bring it out with you for proper disposal. Bonus points if you pick up any trash you see on the trail! And lastly, remember we are on bikes that 9 times out of 10 are loud, and to some, obnoxious. We may love them, but others that are out in the country trying to enjoy the serenity that is nature will likely not. Take it easy, go slow, and smile and wave to those you see on the road and trails. Happy trails to you all, and safe riding on your way there!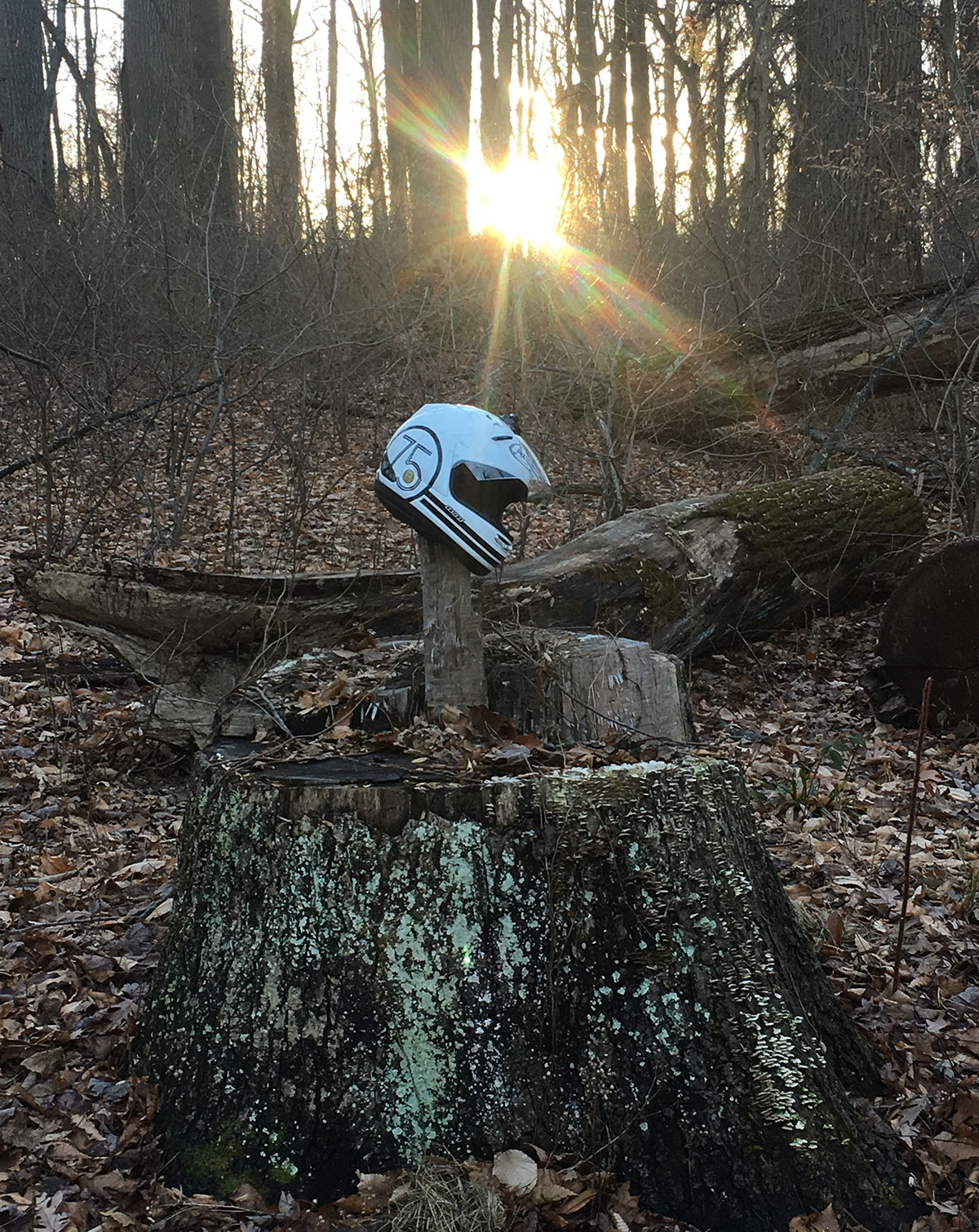 Save
Save
Save
Save
Save
Save
Save
Save