I was around four years old when I starting riding quads and my Dad had me on two wheels with him not long after. Regardless of the specificity of how long I have been riding, one thing that I learned shortly after owning my first street bike is just how different riding on the road is. After spending close to 15 years on dirt before getting on the road I learned quickly that if you don't acquire proper knowledge and riding techniques for the road you will be ill prepared for situations which you would never expect to happen on the dirt.
Thus, my steps toward acquiring a motorcycle license involved an invaluable course from the Motorcycle Safety Foundation. We'll run through the steps of getting your motorcycle license in Pennsylvania, and remember that if you're in a different state, the requirements for a motorcycle permit and license will vary.
How to Get Your Motorcycle Permit in Pennsylvania
This is step number 1 in the process of obtaining a PA Motorcycle License. Prior to applying for a Pennsylvania motorcycle learner's permit, you must pass a basic motorcycle knowledge test. You'll also need to pass a vision screening test. The permit allows you to ride between sunrise and sunset only and you cannot legally ride with passengers. A permit lasts a year and costs $10. There are additional rules and restrictions for riders under the age of 18.
Motorcycle Safety Foundation Courses

Dangerous situations are seldom avoidable and oftentimes not caused by anything the rider has done. We are, unfortunately, forced into situations by outside factors such as other drivers, wet leaves, or runoff from a rain storm to name a few. There are a plethora of variables out there that stack the odds against us as riders, but that doesn't mean we can't be prepared on how to reactto these scenarios in the safest manner possible not only for us as individuals, but other drivers on the road as well.
Learning how to react safely and effectively is something that needs to be learned off the road, and a Motorcycle Safety Foundation (MSF) course is a great opportunity to acquire these skills and rider knowledge.The MSF offers safety courses across the United States that have both written and riding components to teach the basics up to advanced operation of a motorcycle. Two important notes on the MSF courses in Pennsylvania are that a motorcycle permit is required to take one and that classes often fill up very quickly. You may have to schedule a course months in advance of taking one.
The entry level MSF class I took consisted of two night courses and a written exam that with passing scores gets you a day on the MSF track (usually a vacant parking lot) with professional course instructors. For me, it was the perfect preparation for getting my motorcycle license.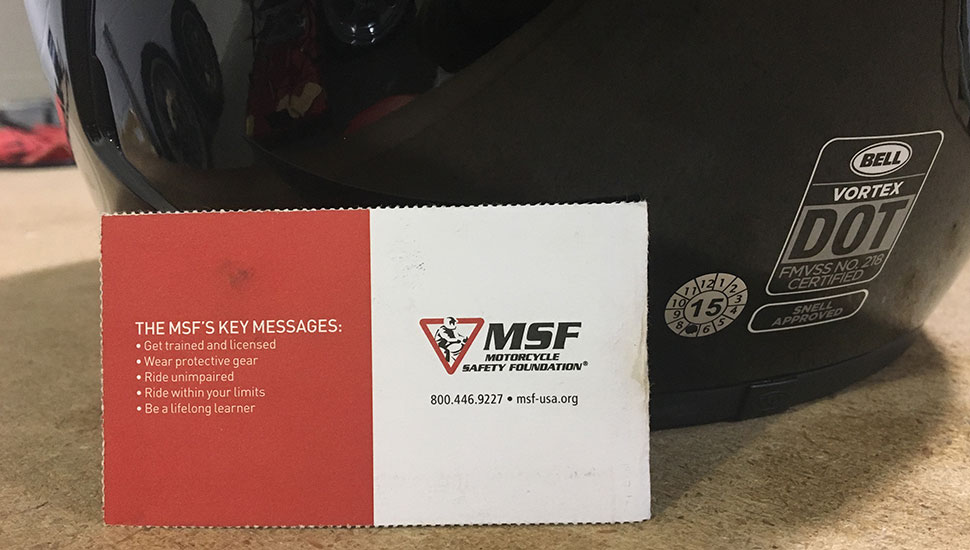 The entry level course, if passed, will get you a certificate (in Pennsylvania, it's free!) that you take to the local DMV for your motorcycle license. A free course to enhance your riding abilities AND get your motorcycle license after completion?! Can't beat that if you ask me, not to mention most insurance companies offer discounts to your motorcycle policy if you provide proof that you passed the course.
How to Get Your Motorcycle License in Pennsylvania
After practicing with your permit, you can schedule a test with either your local Driver License Center or go through the aforementioned PA Motorcycle Safety Foundation Course. Pass the skills evaluation at the MSF program and you get to cut out the Driver's License Center test. You can read the full details here. It's a no brainer, in my opinion, to take the MSF course(s) that are offered to not only obtain a motorcycle li cense, but to also enhance your abilities as a rider. The skills and knowledge that I learned have certainly helped me become a better rider, a smarter rider and a rider that is more aware of his surroundings. A two-year Class M (Motorcycle) License in Pennsylvania requires a $34 fee while a four-year PA Motorcycle License will set you back $44.50.
How to Get Your Motorcycle License in Any State
No matter where you live, I found this Motorcycle License Requirement Map of the entire United States very helpful. From New York to Florida to Texas to California, the motorcycle laws and regulations vary, so check it out to learn how to get a motorcycle license in your state.
Save
Save