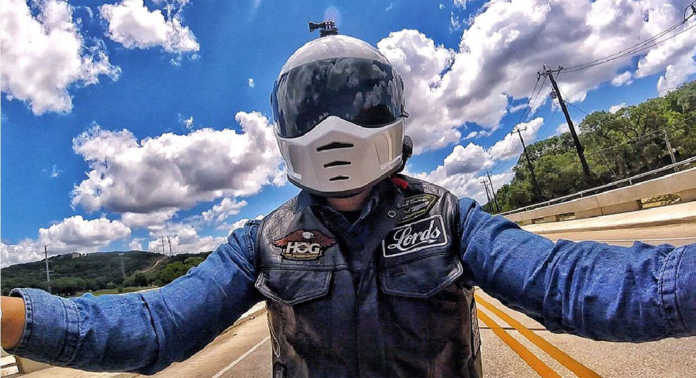 ConnorFXDB is a relative newcomer to the motovlog scene, but in just over a year he's built an impressive channel that's on the rise. We caught up with Connor and got to learn about what he's running on his bike, what he's learned from motovlogging over the last year and more.
You picked up your first bike in early 2016 – what did you buy and how'd you end up with it?
Yes, January 2016 I purchased my 2016 Dyna Street Bob. Funny thing is initially I was looking at getting the Sportster 48, but when e-mailing Nikki over at Central Texas Harley Davidson at the very bottom was the sentence "…is this the only bike you're interested in" I had always wanted a Dyna (before I knew they were Dynas). I would always build a Street Bob on HD.com generator and after I saw that sentence I messaged her back asking about specials on the Street Bob's and if we could come to a nice number then I would focus on the Dyna.
We all know now how that ended up and I couldn't be happier!
What have you done to the Dyna so far? Any other plans for the bike?
A lot! I initially wanted to go with tall apes and slammed look and had picked up a set of Burley 10.5" slammer shocks, Vance and Hines Short Shots, and Mustang Wide Tripper solo seat and 2" Tank Lift. I had started looking at bars when I just got the bug to want to switch things up. I had started to immerse myself with Dyna videos and Harley Wheelies on Instagram and loved the look of it and things they were doing – so the change began.
Currently I'm running 14.2" Hagon Shocks in the rear with 2+ fork cap extensions in the front. I swapped the stock bobber fender and replaced it with Conely's full fender and picked up 95% of the accessories from Speed-KingsCycle.com (rear brake lamp, lamp housing etc). In the front we have Lucky Dave's seat as well as Lucky 13 bars in 13" w/Moons MC Quarter Fairing (attached with HD Quick Release Clamps (3) and (1) Locking HD Quick Release Clamp). The pipe is Bassani Road Rage III w/Vance & Hines Fuelpak FP3 Autotuner. To finish it off, the bike is fitted with Joe Florida LED Lights to provide a little more visibility at night.
As for any plans for future mods – yes! Mag wheels, inverted front end (Lee Stuart and NationalMotors on Instagram are both running inverted front ends currently) with dual front discs, GPR Stabilizer, upgrade cams/clutch basket etc, and chain drive! Paint is also on the list, but unsure on the pattern/color set just yet.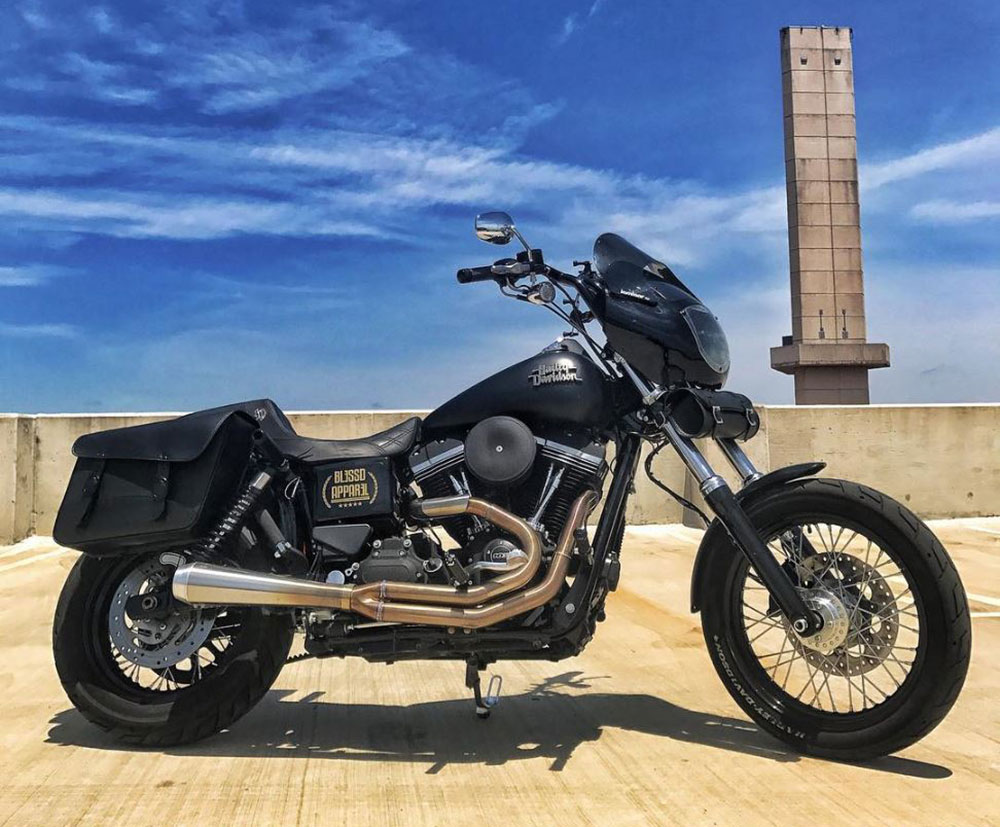 What initially got you interested in motorcycles?
I have always wanted a motorcycle shortly after high school and would see a couple guys around campus rippin on Harley's. It was just a matter of being able to afford one! Then the winter of 2015, a close friend picked up his bike from a local dealer and I accompanied him and the race to pick up a bike of my own was officially on!
What inspired you to get into Motovlogging?
It was moreso of just falling into it. I started recording myself and making short edits (when Instagram videos were only 20-25sec) to share with friends and document my experiences to look back on down the line. I really enjoyed making them and shortly after people started messaging me with questions on being a new rider and just having purchased my bike I knew exactly where they were at.
Being a new rider and some not having anyone to ride with, I started embracing motovlog as a way to reach out to others (and vice versa) to ask/answer questions and to ride with riders of all skill levels! Some don't like to ride with new riders because they ride slow and take forever in turns etc, but I encourage those who are new to riding (cruiser/sports bike) to ride anyway – if you're in the Central Texas area, I would be more than happy to ride with and go at your pace. Any day out riding is a good day!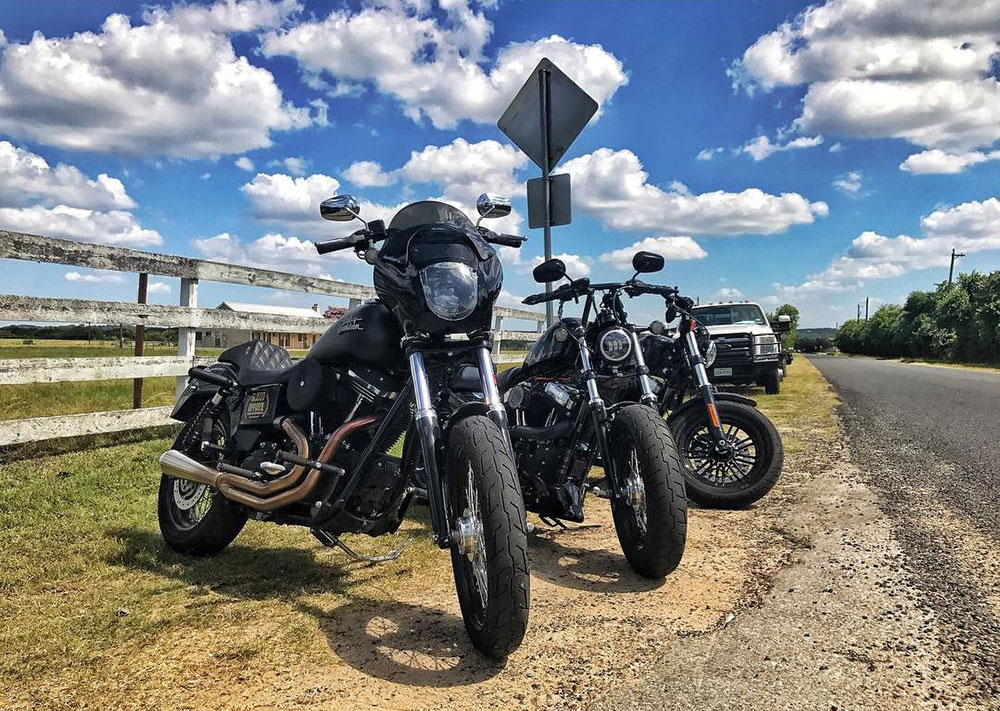 Where are you based? What's your favorite place to ride?
I am based out of San Antonio, Tx! Go Spurs Go! Although recently have taken an interest in exploring the surrounding Austin areas and find new roads to ride. My favorite place to ride has to be Babcock Rd/Cielo Vista and/or FM 471 heading out to Castroville, Tx. They are simple roads with nothing crazy to them other than a couple sharp turns mixed throughout, but they have S-turns riddled throughout where you lean right and then hop over and lean left. Paired with a good riding playlist and nice weather, you can't beat it!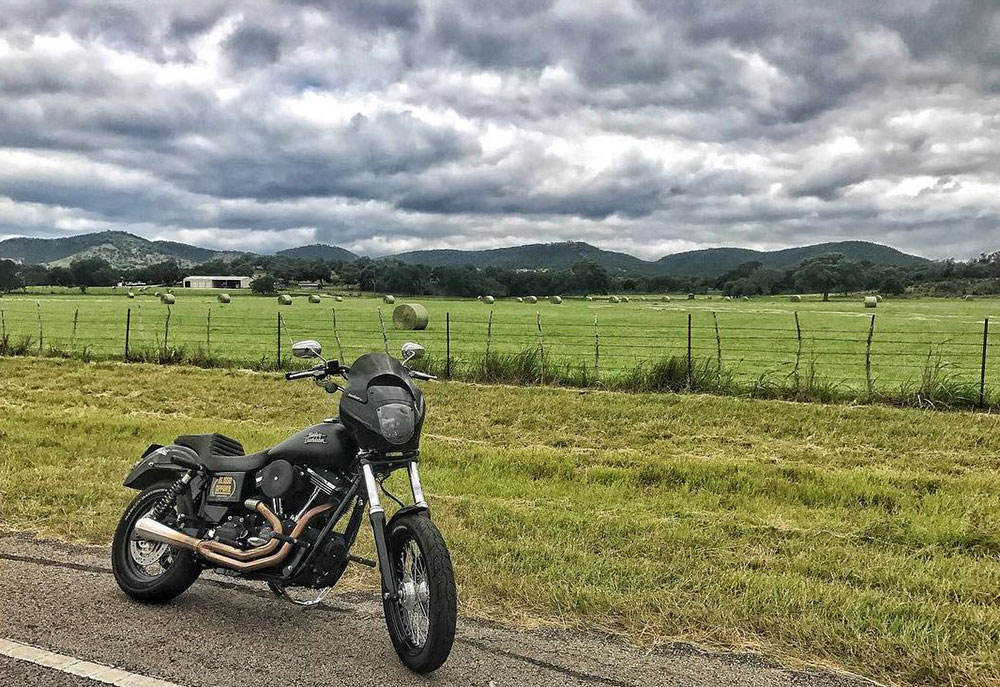 What's your favorite piece of gear?
Favorite Piece of Gear – I would have to say my Sena. I enjoy the ability to make and receive phone calls with absolute clarity and listen to music on rides! Makes the rides even more enjoyable when paired with the right music and/or link up comms with your buddies on the ride! Also provides a degree of safety allowing you to communicate certain hazards in the road ahead or sudden turns etc.
Since you started regularly making motovlog videos, what have you learned and what have you changed – or how has it changed you?
Filming and editing style for sure! I have always shown an interest in cinematography and photography growing up and have been making edits here and there growing up and with each video I learn how to express my view/feeling in the moment. I always try to mimic the feeling of the ride and express them in videos.
MoparBrent760 is one of the main inspirations for a type of video I regularly make on the channel. He has some exhaust runs of himself ripping through canyons and twists that help you get out of the office and ride, even if you're stuck at the office and can't actually ride until the weekend. I must have watched his videos hundreds of times when first getting my bike.
Since regularly making motovlog videos and being somewhat active in the motovlog community (and on Instagram), seeing the content others are putting out there keeps me from getting lazy. Healthy competition between channels and the content being put out is going to keep an already overly saturated type of vlog interesting. For instance, Lee Stuart is killing it with edits and making Instgram stories look like masterpieces – always paired with sick beats.
Lee Stuart, FXDLSBrooklyn, Theofreakindore, BXPolymath, and ThePolygonJohn are the channels I frequently watch because their content is always evolving and keeping me on my toes. Plus, they all seem like pretty cool dudes!
I watch and keep up with a lot of channels, but those are the ones I watch most frequently.
What have been some of your highlights from the motovlog?
I would say hands down best thing to come of motovlog is all the awesome people I've been able to meet and talk with! What starts out as a quick "Hey brutha quick question for ya…" ends up being frequent conversations of local rides and shares of Instagram posts. There are many I would consider are extremely close friends of mine even though we have yet to meet. Looking forward to making it out to Born Free 2018 and changing a lot of that!
You rode around as a penguin for Halloween last year – any plans for Halloween 2017?
Yes! Haha I have to give credit to Lee Stuart for this idea because one of his first Stoke Or Broke vlogs looked like an extremely fun time! I picked up my very own penguin suit and rode around! The feedback and looks people gave were hilarious, esp paired with my Zombie Hunter motorcycle.
As for this year it is still up in the air. It's definitely fun dressing up and riding around and helping others get into the Halloween Spirit – this year I'm thinking Judge Dredd (Sylvester Stallone era) or Deadpool.
What's your day job?
I work for a local State University! Looking to continue doing motovlogs and open up online shopping with channel merchandise etc. Along with that, also interested in one day opening up a brick n mortar store of motorcycle goods and accessories as well as real estate investment!
When you're not riding, what are you doing?
I have several hobbies and passions, but riding is one of my more favorite things. Usually if I'm not riding I'm either asleep or at work. I like to read books on business, work ethic, and general fiction. This mixed in with the occasional firing range and fire drills to keep skills tuned and mind sharpened.
Here's how to keep up with ConnorFXDB: