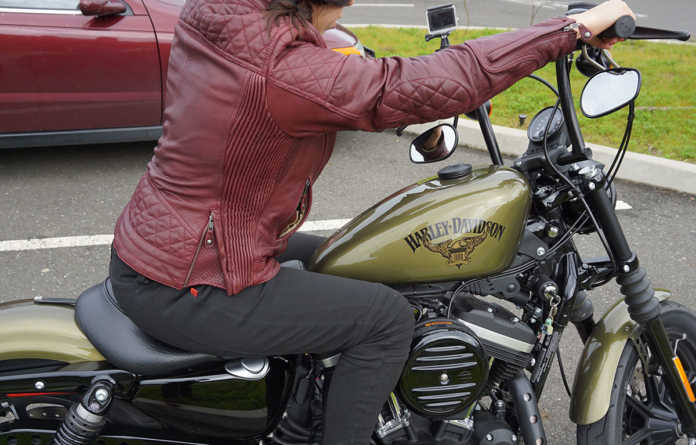 A few months ago, I wrote about my new Roland Sands Riot Jacket on my blog. Now that the novelty has worn off and I have a few more miles under my belt, I thought I'd round out my review here on Get Lowered.
About the Jacket: The Roland Sands Riot Jacket comes in at a whopping $650. It's available in black or oxblood and in sizes Small to 2XL. There are pockets for armor in the shoulders, elbows, and back, but the Roland Sands Armor Kit is sold separately for an additional $90.
Shop the Roland Sands Riot Jacket Now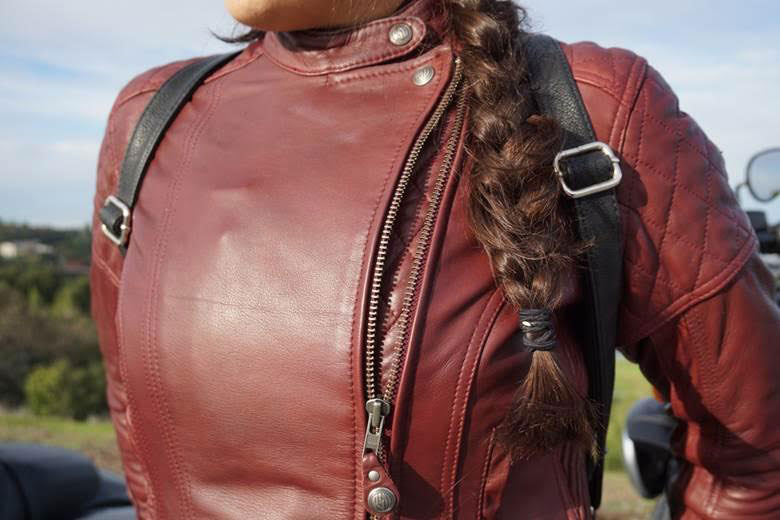 The leather is 0.8-0.9 thick top grain cowhide that is a tiny bit thinner than many other women's leather jackets. You get a simple crossbody zipper, a button on the collar and button on the bottom of the zipper. The two front and interior silk pockets are large enough to fit a smartphone. The arm cuffs and side closures have zippers that reveal perforated leather, great for ventilation. The sleeves are pre-curved and the back of the jacket is slightly longer than the front. Style-wise, the jacket looks great on and off the motorcycle and does not look bulky.
Roland Sands Riot Jacket Fitment
I tried on about 6 different leather jackets before making this purchase, from REV'IT! to Dainese, but none fit like the Riot jacket. It's comfortable to move around in while still looking feminine. Depending on whether you want to add armor or not, I'd recommend trying on the jacket with and without an armor kit to determine your size. I have a 34 inch chest with a small waist and wide hips, so a size small fit me well with the armor kit. A size medium would have fit too bulky.
Roland Sands Design Riot Comfort
With thicker leather jackets, it's important to find one that has enough flexibility to fit your positioning on your motorcycle. Since I have wider hips, I take advantage of the side zip closures which I think are the most important feature in women's jackets. These side zippers expand or contract the jacket to fit your body when you sit down, making it less constricting and more comfortable.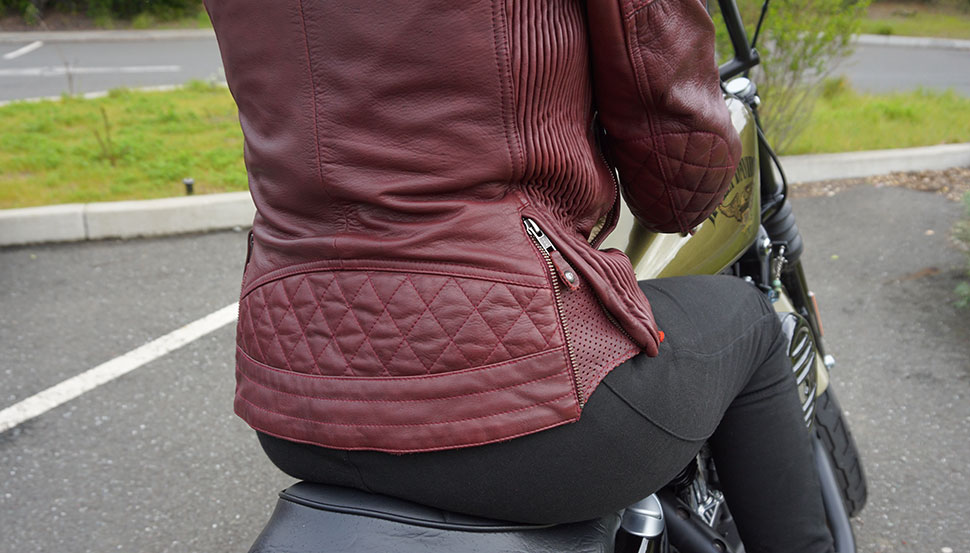 Initially, I disliked having the jacket zipped all the way up and closing the snap collar button. I felt it was too tight and constricting around my neck and chest. I've since worn it with the collar open and folded over, revealing the perforated leather detail. It wasn't until I wore a sports bra that I realized it fit a little looser in that area and I could zip it up completely and feel more comfortable. So there is still some flexibility with how you wear it that should work for your chest size.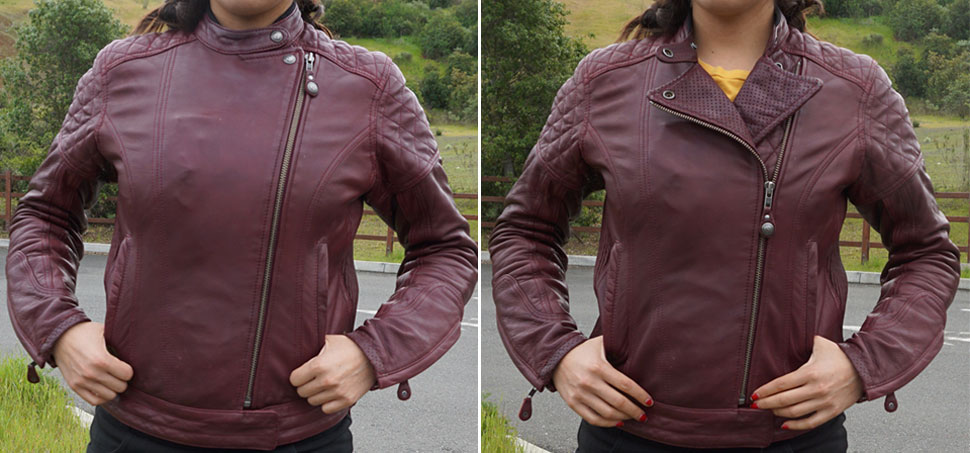 Even though I purchased a size small, I can still fit multiple layers underneath the jacket, including the armor kit, to ride in colder California temperatures. This winter season I've been riding in temperatures at around 40 degrees F and above, and I've been kept warm and cozy in the jacket.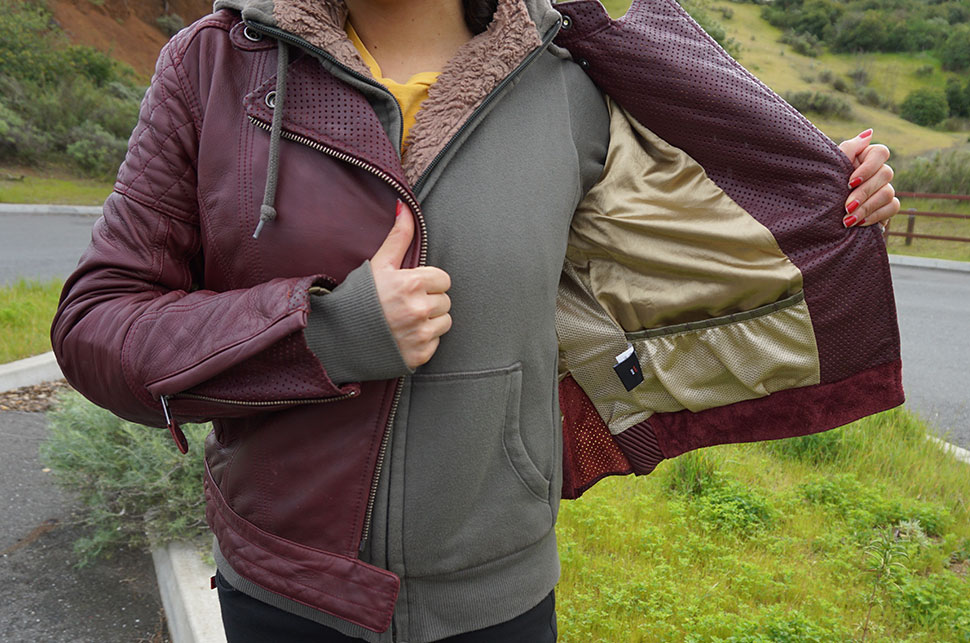 The thickness of the leather does a good job at blocking out the wind, although at highway speeds the ridges along the side let some airflow in. This works in your benefit in hotter temperatures to keep you cool as does the perforated leather when the arm cuffs are left unzipped.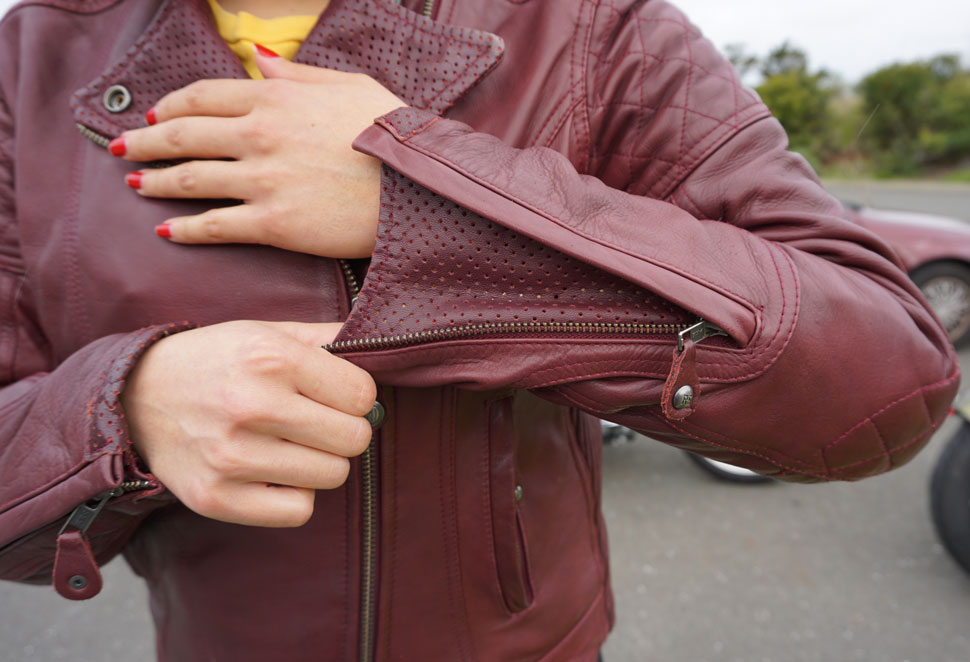 I don't mind the ridges along the side because even though air flow can get in/out, the flexibility of the sides helps keep you mobile. With thick leather jackets, it's important to still be able to move and get a full range of motion. These ridges allow you to really move in the jacket without feeling constrained.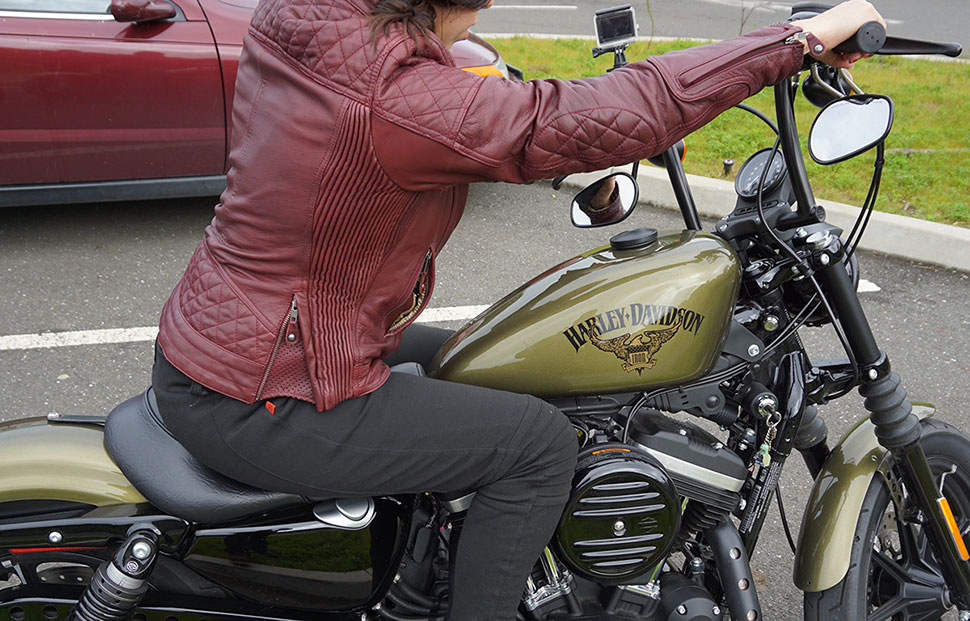 Roland Sands Riot Jacket Style
Every time I ride my motorcycle, I look forward to wearing my Riot jacket. With other jackets I've purchased, I always dread putting them on when it's time to ride. Other jackets I have are not as comfortable and don't have much flexibility, so I would end up riding in just a tshirt or sweatshirt. I'm a huge advocate for #ATGATT, so having gear that I genuinely want to wear is a big deal and the Riot jacket is just that. Not only does it fit me well and have protection, it looks great when I hop off the bike too.
Even though it comes at a high price tag, you get what you pay for. Everything is high quality and well made, from the quilting and perforated leather detail, to the stitching and even silk lining. The true test will be how it continues to hold up throughout the years. So far, not a single stitch has come undone nor a thread has come loose. I have even been caught in the rain and the jacket kept me dry.
It was well worth the investment and I wear it every day I ride. This jacket gets two thumbs up from me!
Save
Save