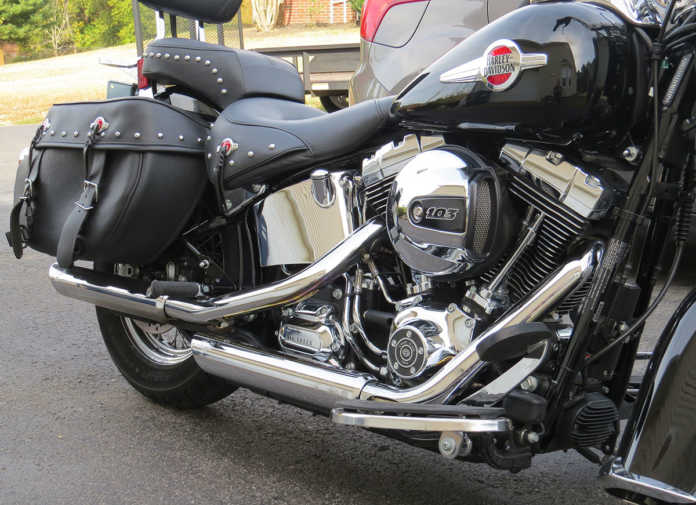 I'll be the first to admit, I had my misgivings about installing slip-on mufflers on my new bike. The heart said that I should rip off the factory head pipes and install a full system, but the brain (and I think the wallet whispered some too) told me that slip-ons were the way to go for now. After investigating a huge number of options, I chose the Vance & Hines Twin Slash 3″ slip-ons for my Harley FLSTC. Now that I've been running them for a couple of months, it's time for a quick review.
Why Choose Slip-On Mufflers?
There are couple of good reasons to choose slip-ons versus doing a full exhaust, but the first one is what really hit home for me.
1 – You don't want to do a full stage one
A set of slip-on pipes typically won't require that you do a tune on your bike, and they're about half the cost of a full exhaust system. Because of this, for those looking to skip the stage one upgrade, slip-ons are a welcome way to add sound without really impacting performance.
2 – You have limited mechanical experience
If you're the DIY type, and chances are good that you are, doing a slip-on install should be a simple process that doesn't require much more than standard hand tools you likely already have. While there's a lot to be said for the performance gain from a full exhaust system, wiggling the stock mufflers loose and bolting the new ones into place is a job that can be done in an hour or two, instead of an afternoon. Also, it's far less intimidating to work down the pipe instead of on the motor itself.
Shop the Vance & Hines Twin Slash Slip-On Mufflers for Softail now
Shop the full Vance & Hines Harley Exhaust Lineup
Why I Chose the Vance & Hines Twin Slash 3″
There are a lot of options out there, and some of them are really great. Almost every slip on is going to keep your stock exhaust length (give or take a couple inches) so you're not going to change the look of your bike all that much.
For me the choice came down to finding a set of pipes that sounded the way that I wanted, while not breaking the bank. Vance & Hines has been around since the late 1970s, so they've learned a thing or two about motorcycle performance. In short, they're a name that I trust.
But really? It's all about the sound. To be fair, some V&H pipes have a bit too much "slap" sound for my tastes. I knew that I wanted that deep rumble instead of a scream, so a bigger diameter muffler was going to do the trick. I also liked the fact that I could easily flip out the baffles if they were a bit too loud.
Installation
The thing that you'll likely hear about installing slip-on mufflers is that removing the stock mufflers is the hardest part. That was true for me as well, even though my Heritage Softail Classic was less than a month old. Regardless, a bit of penetrating oil and a circular twisting motion made quick work of removing the old mufflers.
Installing the new mufflers was dead simple. The included instructions are very clear, and there are thorough drawings to help you get a better feel for how things should look. I'll only forewarn you to be careful when choosing where the screws for your worm-drive clamps end up. On my first run, I found out that I had positioned the screw into a place I couldn't reach when the mufflers were installed, so I had to loosen it and slide it around before doing the final fitting.
The End Results
What else is there to say? I love the look and the sound of the Vance & Hines Twin Slash 3″ slip-ons. The installation was a breeze, they have that low-end growl that I wanted and they sound like a beast when I pour some throttle to them. I chose to run the stock baffles, even if they're a bit louder than I had imagined, but so far the neighbors haven't complained.