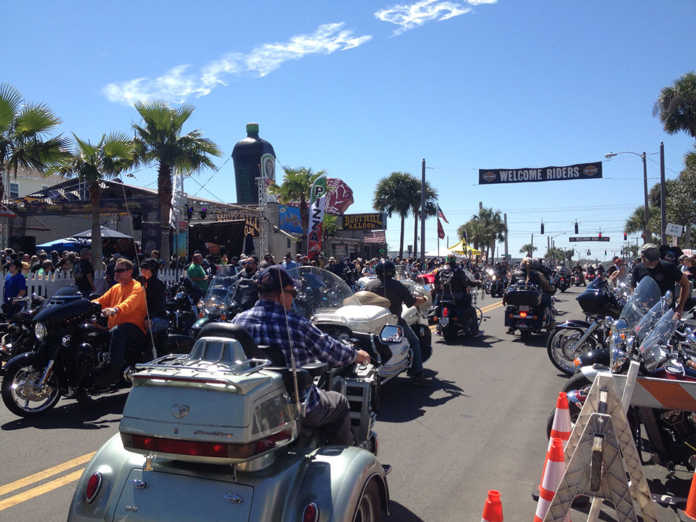 The 76th annual Daytona Bike Week kicked off the 2017 riding season with a bang in sunny Daytona Beach, FL. Every year bikers start to flood the city streets as early as two to three days before the official start of this 10 day long event. Spread across almost all of Volusia County from Ormond Beach to Edgewater, Daytona Bike Week has grown to gigantic proportions since its humble beginnings on Main Street and the Daytona International Speedway.
An unusual snap of cold weather and a little rain thinned out the night party crowds early in the week but once the sunny Florida weather returned, Bike Week was back in full effect. With riders as diverse as the bikes themselves there's something for everyone in Daytona. From Antiques to Baggers, Choppers, Bobbers, extreme customs and everything in between there are literally bikes everywhere and there's never a shortage of stuff to do. Wet t-shirt contests, live music, swap meets, vendors, demo rides, more bike shows than there are days in the week, burn out contests, vintage motorcycle races, cole slaw wrestling, cruising the town and everything in between there is literally something going on every second of every day and every night.
Florida sunshine, warm tropical weather, palm trees and millions of bikes. I can't think of a better way to kick off the 2017 riding season in style. If you've never made it out to Daytona Bike Week I highly recommend you make the journey at least once to experience all that this legendary rally has to offer. You won't be disappointed.
Check out highlights below of some of the week through my eyes, but like I said, Daytona Bike Week is an adventure you should try to live at least once in your life. Maybe I'll see you at Bike Week 2018?
Daytona Bike Week 2017 Highlights