Few industries on earth inspire as much passion and loyalty toward brands as the motorcycle industry. Coming from over 20 years of owning and riding Japanese manufactured bikes, my background was mostly in motocross and superbikes.When it came time for a new bike, though, my search concluded in a place I didn't necessarily expect. I ended up with a brand new 2016 Harley-Davidson Sportster Forty-Eight.
I decided to shop in April, and I visited every manufacturer from Suzuki to Triumph to Harley-Davidson. But, when I got to the local Harley dealership, something about seeing the 48 in the showroom instantly drew me toward it. Was it the fat front tire and the peanut tank that got me thinking of recreating a modernized bobber-esque look?
Low to the ground with no saddle bags? Check. Sleek and minimalistic? Check. I thought to myself, "the possibilities are endless, Tyler, so why not." I knew I wanted a new bike, I knew I wanted different, and I knew I wanted something extremely customizable to set me apart from the crowd. Well I found it, I bought it, and I love it!
The look is incredibly adaptable to your likings and needs, and that by far has been the most rewarding part about owning this machine. I can keep it light and minimalistic for solo riding on country twisties, or I can add saddles and a back pad to ride two-up for hundreds of miles. If I had to put what I love most about my Sportster into one word, it's versatility. My Harley doesn't look like any of the other 48's I've come across. That is a big deal for me in owning a motorcycle, and the Harley brand delivers me a chance to really make the bike my own.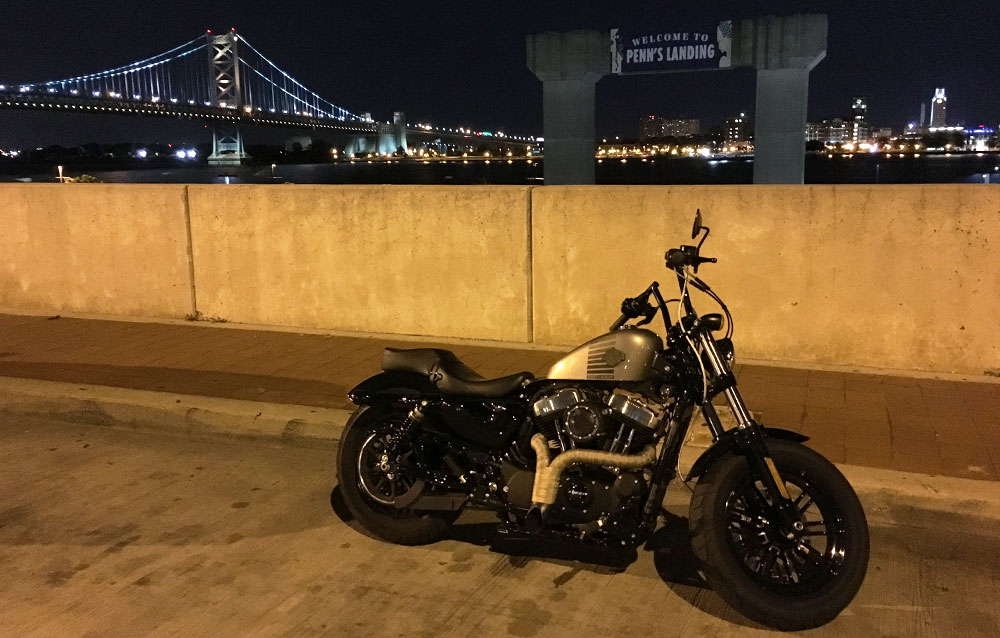 So far, I've added 8″ bars with internal wiring, a 2-into-1 short headers exhaust system, and a Figure Machine Vision 5 Air Cleaner, plus completed some aesthetic work to clean up around the tank and coils and installed a power-commander V to manage the fuel map(s). The performance and look have been tailored to my needs and desires, and the bike looks, sounds and handles incredibly well. I love the throaty Harley sound, the lightweight and nimble feel for precise handling on country roads and the look that turns heads everywhere I go.
If you want a young, modernized look then I can't think of another Harley that gives you those options like the Harley 48. One might say this is a young man's machine, but I beg to differ. At 31 I love this bike, and I know in another 20 years I'll still love this machine, and I will relish the moments I spend telling my kids all of the stories and adventures I had with my first Harley.
Save
Save
Save
Save
Save