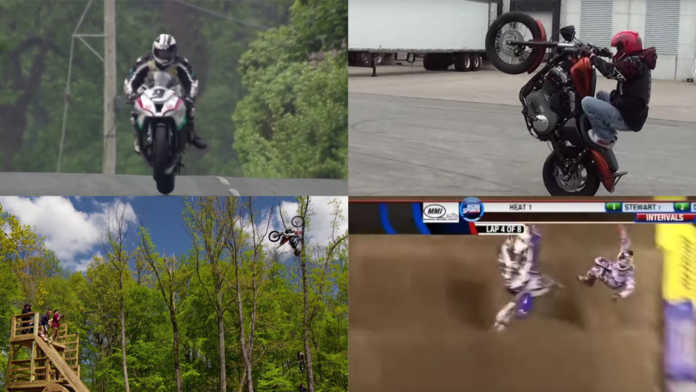 Since there are TONS of motorcycle videos, vlogs, race highlights and so on I am going to keep it to just YouTube. These 5 videos span the realm of motorcycles from motocross, to Harleys, to freestyle riding. I have had the pleasure of riding many forms of motorcycles including all of these to some extent. Albeit not nearly as impressive as a lot of them, and definitely WITH pants on :).
Ouch

This one reminds me of my motocross days. I started riding with my father when I was somewhere around 4-5 which is what got me into motorcycles, and specifically dirt bikes. I rode for years until I got my first motocross bike at which point I was also introduced to pain. Real, whole body pain. Crashing or not, this sport takes its toll on your body. Fortunately I am still here to tell the stories of my "glory" days, although I never approached the skill or glory of these riders. But of course, even the best fall down. This video is cringe worthy!
Insane Skill, Focus and Precision

Riding sport bikes for years introduced me to what real speed was all about, and hitting 185mph is something I will likely never do again. The focus you feel during and the adrenaline pump afterwards is unlike anything I've ever felt. I can't imagine being able to ride at sustained speeds like these guys on a course that offers you literally just inches between life and death at almost every turn! Skill, precision, focus and some serious guts are all I can think of to describe these riders. I introduce you to the Isle of Mann!
Humor

I don't know about this one other than that "wow" factor and absolute randomness just gets me chuckling. That and the dubbed over crazy voices make it hilarious to me. It makes me think back on all of the people I've met at the track and rode with for years… how many of those guys had a few "loose screws" and would do something like this?! Probably a lot more than I would have thought, but then again all motocross riders have a screw or two loose.
Not-So-Typical Harley Time

So this one reminds me of the GSXR-750 SRAD frame that I strapped a Kawasaki ZX-6R motor into for stunt riding (oil pickup was in the rear on the ZX in those days so no oil starving when doing wheelies). It was fun and short lived, but boy was it hard to perfect that balance when "stunting," and I've got a nice scar on the left knee to prove it.
RESPECT for Progression

I remember seeing the X-Games when I was about 13 or 14 and I would go to my jumps in the yard to "TRY" and recreate what I saw. End result? Some awesome times, and some broken bones! The progression that Travis Pastrana has brought to not only freestyle motocross, but all action sports, has greatly increased their popularity in the last decade. He will go down in the books as an innovator that not only saw stardom himself, but who influenced and introduced so many young amateur athletes that are now professional athletes. This video is not of Pastrana, but I credit him for getting action sports to the point of tricks like this… WOW.
I hope you have time to enjoy each of these videos for what they are and the little descriptions I wrote to go along with each. Some may hit home for you and some may not, but for me they all bring up some sort of memory about my riding experiences. Now get back to WORK!